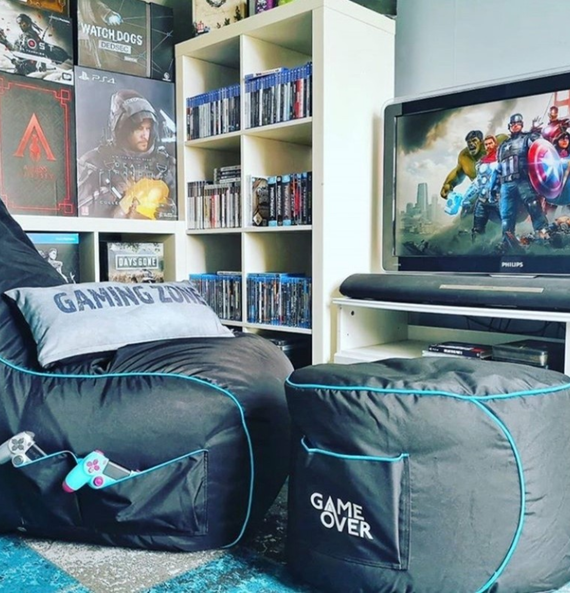 FAQs
General FAQs
The bean bag I want is sold out!
We consistently replenish our stock levels, so when a colourway is sold out due to high demand, it will be restocked within a couple days.
Do you do custom prints for the cushions?
We do not currently do custom prints, but we have multiple special edition designs based on popular games. 
Are the items water-resistant?
Yes, all items (bean bag chair, lounger, foot stool and cushions) are made with water-resistant fabric. They are not fully waterproof, so avoid the open ocean.
What ages are your bean bags suitable for?
Our bean bags are suitable for all ages and all levels of gaming from casual gamers to pro competitors.
How do I clean the bean bags?
The bean bags are made with water-resistant fabric and are easily wiped clean with a damp cloth.
Bean Bag Specifications
What are the bean bags filled with?
Game Over bean bags are filled with high quality, fire retardant EPS polystyrene beads that mould to your body.
Will I ever need to refill my bean bag?
Over time and through use, the bean filling will compress and a top up will be required. There's a heavy duty zipper located at the bottom of each item for easy refills.
Do all bean bags come fully filled?
Due to shipping restrictions, the lounger does not come prefilled, but it does come with the filling and easy filling instructions. For our bean bag, international customers will need to fill the beanbag products themselves. Please note: the filling DOES come with the purchase of a bean bag! But you will need to insert the filling into the bean bag cover yourself. In a minority of case, this will also apply to some UK orders.
How many packages does the bean bag arrive in?
For international deliveries, the bean bag filling & cover will arrive in two separate boxes, and lounger filling & cover will arrive in three separate boxes due to size.
What are the measurements of the bean bags?
• Classic Bean Bag Chair: L83cm, W60cm, H83cm (approx.)
• 8-Bit Compact Bean Bag Chair:  L73cm, W49cm, H73cm (approx.)
• Lounger: L120cm, W60c5cm, H83cm (approx.)
• Cushion: L56cm x H27cm (approx.)
• Footstool: W60cm, H42cm, D40cm (approx.)
Shipping and Delivery
How long will it take for my order to arrive?
We aim to deliver within 3 - 5 working days. This is subject to change during high demand seasons like Christmas.
I live outside of the U.K. Do you ship internationally?
We ship to a selection of EU countries, and are currently expanding our shipping list to incorporate more!
At the moment, we ship our products to the following countries:
Denmark
Germany
Austria
Italy
Spain
France
Belgium
Netherlands
Sweden
Poland
Portugal
For ALL orders we offer FREE Shipping!
Why don't you ship to my country?
We are currently unable to ship to certain countries due to their shipping regulations. Our products and the boxes we ship in are very large, and in many cases too large for delivery to certain international countries.
Orders and Payment
What is the return/exchange policy?
You can return items up to 30 days from purchase. Please email us at orders@loft25.co.uk to confirm instructions prior to sending.
What payment methods do you accept?
• Shopify Payments
• Paypal
• Credit/Debit Cards
I need help with my order/tracking!
Please email us at orders@loft25.co.uk or check out our Contact page for more information.